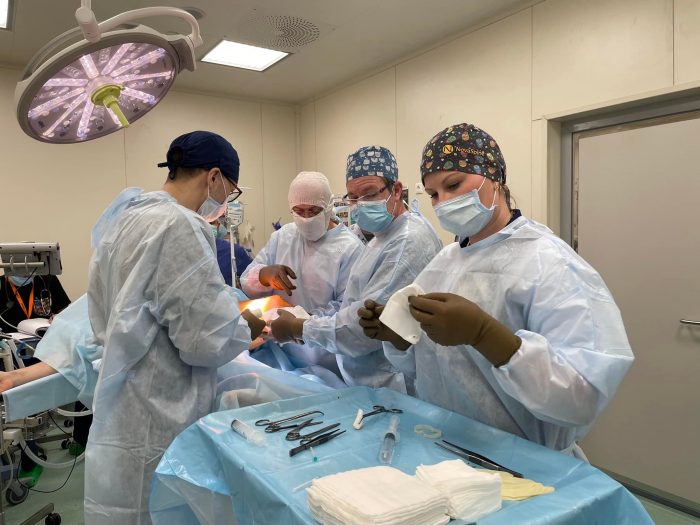 "Margarita, Matthew and Klim" – Oleksandr can't say these names without bursting into tears. Those are the names of his wife and two sons of age nine and four. They all died while trying to evacuate from Bucha. Oleksandr was seriously injured himself, and his leg was amputated.
Oleksandr and his family moved to Bucha in 2014, when the Russians occupied his native Donetsk. Oleksandr fled to the Kyiv region with his extended family: both Oleksandr's parents and his brother's family came with them. In Bucha, they built their new happy life. Oleksandr and his wife had another baby. The eldest son, Matthew, was a model student at school.
From the beginning of the full-scale Russian invasion, the family has been staying in Bucha. They didn't want to leave their grandfather who was paralyzed. The family lived in the basement for more than a week. They were living without gas or water, but fortunately, they has a well in the yard. But the shelling hasn't stopped for a moment, so they finally decided to flee.
On March 6, they and their neighbors packed their staff and left the house. Oleksandr says they were driving very slowly so that it was clear that they were civilians. The family managed to drive only 300 meters when the Russians opened fire on them. The civilian cars were shot at by two infantry combat vehicles. "The children were killed at once, when I turned around to look at them, they were already dead. I looked at Rita, she said something to me and then — that's it… she also died," Oleksandr says crying.
The man's leg was severely injured, part of it was almost torn off, he says. Their neighbors' cars also came under fire, and the driver died on the spot. His wife and godfather managed to escape from the attack and hide in the woods. When the Russian infantry combat vehicles left, people passing the scene saved Oleksandr and took him to a nearby hospital. Oleksandr's leg was amputated. Then he was taken to Ohmatdyt. The man underwent numerous surgeries.
A week after the tragedy, Oleksandr's neighbor found the bodies of Oleksandr's wife and two sons and buried them.